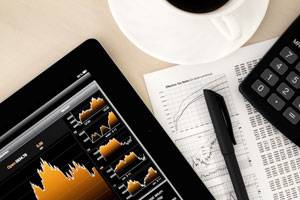 US stocks settled in early trading as markets await more corporate earnings reports and a new round of US-China trade negotiations. Trade ...
The US dollar fluctuated lower in a tight range during the Asian session, to see its rebound for the fourth session from the highest since December ...

The Australian dollar fell significantly during the Asian session, to witness its lowest since March 11th against the US dollar following the ...

The Japanese yen rose slightly against most major currencies, especially the US dollar, as the focus shifted to the central bank's monetary policy ...

The US Dollar rose against most major currencies on Tuesday, extending gains on higher demand levels for the currency as a safe haven following ...
US stocks rose during today's trading after positive earnings reports from major companies led by Twitter, which pushed Nasdaq with Standard & Poor's to close at new record highs. Energy ...
Silver holds above 4-month low

2019-04-24 11:54:28 GMT

Silver prices rose in the Europe market on Wednesday, to rally above a four-month low recorded earlier in the day, and heads to its first gain in three days, but prices remain under pressure from the ...

Gold heads to rebound from 4-month low as robust dollar curbs it

2019-04-24 10:05:14 GMT

Gold prices rose in the European market on today's trading, amid attempts to recover from the four-month low recorded earlier yesterday, while those attempts are being restrained by the raise of ...

Oil drops as US inventories jumps

2019-04-24 09:27:01 GMT

Oil prices fell on the European market on Wednesday, dropping from the highest level in six months recorded earlier yesterday, with a marked activity of correction and profit taking, heading to the ...
Symbol
Last
Change
Chg.%

1.1185

-0.0059

0.5287%

1.2941

-0.0061

0.4703%

14.974

-0.030

0.203%

65.782

1.772

2.769%

74.57

0.05

0.07%

1277.045

1.345

0.105%
Subscribe to our Newsletter
Fill in the form to recieve our daily reports
2019-04-24 08:04:19 GMT
2019-04-24 01:57:57 GMT
2019-04-23 21:27:53 GMT
2019-04-23 18:46:39 GMT